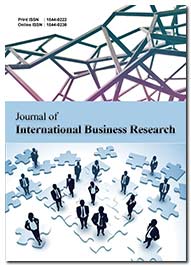 Print ISSN: 1544-0222
Online ISSN: 1544-0230
About the Journal of International Business Research
Journal of International Business Research (JIBR) is an open access journal with a global reputation. Affiliated to Allied Academy publication, this journal enjoys 20% acceptance rate.
JIBR caters to the needs of a wide range of national and international audience by publishing the latest developments and trends in the national and international business. It thus caters to the business houses, industries, business schools, research firms; practitioners in banking, taxation, and finance sectors; professionals in the field of Marketing, Advertisement, sales and distribution in capitalizing the changing business scenario.
The Journal of International Business Research (JIBR) is sponsored by the Academy for Studies in International Business and adheres to a stringent double blind peer review process for the publication of the latest and original research in this field, based on theoretical and empirical research. More details on the types of manuscripts published and the categories of research accepted are displayed in the Journal Matrix section of this website.
The journal covers a wide range of topics related to international business by accommodating wide range themes including but not limited to intellectual property rights, intellectual property law, business research, exchange rate, business combinations, Business Economics, Business foreign exchange markets, business ethics, world business cultures, and pricing strategy. Authors who would like to discuss the potential interest in a manuscript may contact Editorial staff.
h-index
Articles published in Journal of International Business Research have been cited by esteemed scholars and scientists all around the world. Journal of International Business Research has got h-index 31 , which means every article in Journal of International Business Research has got 31 average citations.
Volume Selector