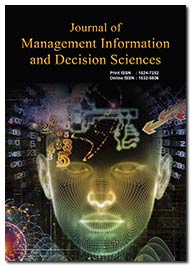 Print ISSN: 1524-7252
Online ISSN: 1532-5806
About the Management Information and Decision Sciences
Journal of Management Information and Decision Sciences (JMIDS) is a open access journal affiliated to Allied Business Academies.
The journal focuses on disseminating the latest research in the field of management information system and its role in decision making, as well their relationships to cognate disciplines including Economics, Finance, Management, Management Science, Marketing, Statistics, Operations Research and Engineering.
The journal adheres to stringent double blind peer review policy to maintain the publication quality.
With an acceptance rate of 25% submitted manuscripts, the journal encourages recent discoveries and innovations comprising theoretical, conceptual and empirical research in Information Systems, Decision Sciences and cognate disciplines.
JMIDS caters to the needs of leading business executives and managerial force that is actively involved in management and decision making.
The Journal also publishes extensively for the managerial IT professionals and industry practitioners in the fields of business management, information systems and decision analysis.
Sponsored by the Academy of Management Information and Decision Sciences, JMIDS encompasses a wide spectrum of topics in this field including, but not limited to Sustainable Supply Chain Management, Collective Decision Making, Multi-Attribute Utility Theory, Information System And Decision Making, Fuzzy Models Of Decision Making, Integer and Binary Programming, Linear Programming, Markov Processes, Mathematical Programming, Financial Risk Analysis and Management, Multi-Tier Supply Chain Management, Dynamic and Naturalistic Decision Making, General Decision Making, Applications of Decision Aids, Behavioral Aspects of Decision Making, International Decision Making, North American Decision Making Framework, Resource Dependence Theory, Environmental Management Systems, Marketing Information Systems, Financial Decision Making, Economic Decision Making, Energy Economics and Finance, Operations Research and Engineering.
Further details on the types of manuscripts published and the categories of accepted research are displayed in the journal matrix section of this website.
Authors who would like to discuss the potential interest in submitting a manuscript may contact Editorial staff
Volume Selector