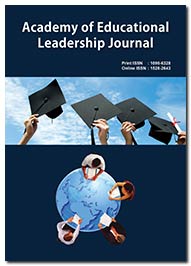 Print ISSN: 1095-6328
Online ISSN: 1528-2643
About the Academy of Educational Leadership Journal
Academy of Educational Leadership Journal (AELJ) is an open access publication affiliated to Allied Business Academy. This journal with 30% of acceptance rate adheres strictly to double blind peer review process to maintain the publication standards and practices.
The journal aims to cater to the needs of the researchers, scholars, academicians and academic institutes that import educational study, leadership education. AELJ thus covers a vast spectrum of topics for publication by including topics like accounting history, auditing, International business, communications, conflict resolution, consumer behavior, financial Institutions, educational management, administration & leadership, ethical issues, governmental issues, health care management, human resources, institutional effective leadership, leadership effectiveness, approaches to learning, and approaches to studying leadership education.
Sponsored by the Academy of Educational Leadership, AELJ encourages theoretical, empirical and applied research in higher education (except economic or entrepreneurship education). More details on the types of manuscripts published and the categories of research accepted are displayed in the Journal Matrix section of this website.
Authors who would like to discuss the potential interest in a manuscript may contact the Editorial staff.
h-index
Articles published in Academy of Educational Leadership Journal have been cited by esteemed scholars and scientists all around the world. Academy of Educational Leadership Journal has got h-index 56 , which means every article in Academy of Educational Leadership Journal has got 56 average citations.
Volume Selector