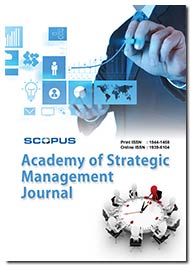 Print ISSN: 1544-1458
Online ISSN: 1939-6104
About the Academy of Strategic Management Journal
Academy of Strategic Management Journal (ASMJ) is a scholarly business and management publication that offers an open access platform to discuss the latest discoveries and innovations in this field. Affiliated to Allied Business Academies, the journal strictly adheres to double blind peer review policy to maintain the publication quality.
With an acceptance rate of 30%, the journal considers theoretical and empirical works in Management, Strategic Management, Health Care Management, Strategy and Leadership as research articles, reviews, case studies and commentaries for publication. For more details on the types of manuscripts published and the categories of research accepted are displayed in Journal Matrix section of this website.
This journal caters to the needs of wide range of readers from across the sections of the society, including policy makers, business and management professionals, top management hierarchy, B-schools, individual researchers and scholars, academicians and students. In this direction it includes a vast spectrum of topics in this field including but not limited to marketing strategy, marketing management, strategic planning, strategic decisions concern, strategic management concepts, banking strategy, customer satisfaction management, and industrial management.
Authors who would like to discuss the potential interest in a manuscript may contact the Editorial Staff.
h-index
Articles published in Academy of Strategic Management Journal have been cited by esteemed scholars and scientists all around the world. Academy of Strategic Management Journal has got h-index 56 , which means every article in Academy of Strategic Management Journal has got 56 average citations.
Volume Selector