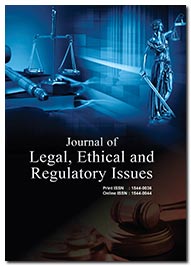 Print ISSN: 1544-0036
Online ISSN: 1544-0044
About the Legal, Ethical and Regulatory Issues
Journal of Legal, Ethical and Regulatory Issues (JLERI) is an open access Bi-Monthly journal that welcomes original research related to the ever changing international business laws and legal rights.
Affiliated to Allied Business Academies publication, JLERI enjoys 30% of acceptance rate and encourages theoretical or empirical works in business law, ethics or governmental or regulatory issues. More information on the types of manuscripts published and the categories of research accepted are displayed in the Journal Matrix section of this website.
Sponsored by the Academy of Legal, Ethical and Regulatory Issues, this legal journal adheres to double blind peer review process (15-25 days) to ensure original and quality research in this field. JLERI aims to cater to the needs of legal and taxation professionals that interpret business laws. Apart from catering to the vast business and industrial sectors, the journal prioritizes the needs of business and legal firms, B-schools, academic and research institutions, practitioners and students.
JLERI thus encompasses a wide range of topics in this field including ethics in the workplace, regulatory compliance, ethical decision making process, ethics in business, legal ethics and ethical problems in E- Business.
Guidelines & Article Processing Charges Formatting Guidelines Publication Policies and Ethics Issues Frequency: "Bi-Monthly"
Authors who would like to discuss the potential interest in a manuscript may contact Editorial Staff.
Volume Selector