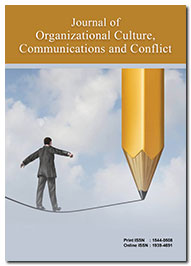 Print ISSN: 1544-0508
Online ISSN: 1939-4691
About the Journal of Organizational Culture, Communications and Conflict
Journal of Organizational Culture, Communications and Conflict (JOCCC) is an open access journal that prominently publishes the latest trends and developments in the field of organizational culture and communication, emphasizing their role in conflict resolution.
Affiliated to the Allied Business Academy, JOCCC aims to cater to the needs of vast sections of the business, trade, commerce, academic, and research institutions. With an acceptance rate of 30%, the journal adheres to double blind peer review policy for all the manuscripts prior to their acceptance for publication. JOCCC encourages theoretical and empirical works in Organizational culture, Communications, Organizational Behavior, Human Resources, and Conflict resolution for publication. More details on the types of manuscripts published and the categories of research accepted are displayed in the Journal Matrix section of this website.
Sponsored by the Academy of organizational culture, communications and conflict, JOCCC considers a broad spectrum of topics on this field including organizational behavior, leadership, organizational culture, spirituality in the workplace, conflict resolution, performance in education technology, encourage science discussions, language learning, computer-mediated communication, revolutionary subjects, religion in the workplace, job satisfaction and religious commitment.
Authors who would like to discuss the potential interest in a manuscript may contact Editorial staff.

Guidelines & Article Processing Charges Formatting Guidelines Publication Policies and Ethics
Volume Selector