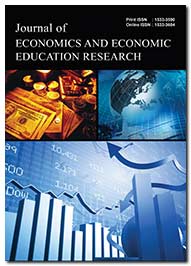 Print ISSN: 1533-3590
Online ISSN: 1533-3604
About the Economics and Economic Education
Journal of Economics and Economic Education Research (JEEER) scholarly research journal that offers an open access forum for the publication of the latest trends and research outcomes in the field of economics and the economic education.
Affiliated to the Allied Business Academic Publications, this scholarly journal enjoys 30% acceptance rate among the economists, stock brokers, policy makers, academicians, educational institutions, researchers, scholars and student community at large.
Journal considers theoretical, empirical, applied and qualitative research as analysis, critical reviews and case studies in economics or economic education.
Sponsored by the Academy for Economics and Economic Education, the journal encourages a wide range of topics for publication including but not limited to macroeconomics, credit risk, normative economics, shadow economy, foreign direct investment, transformative economics, stock market participation, education and economic development, environmental economics, Micro economics, law and economics, econometric and statistical methods, pricing-to-market, etc.
More details on the types of manuscripts published and the categories of research accepted are displayed in the Journal Matrix section of this website.
Authors who would like to discuss the potential interest in a manuscript may contact the Editorial staff.
· Guidelines & Article Processing Charges
· Formatting Guidelines
· Publication Policies and Ethics
· Issues Frequency: "Bio-monthly"
Volume Selector